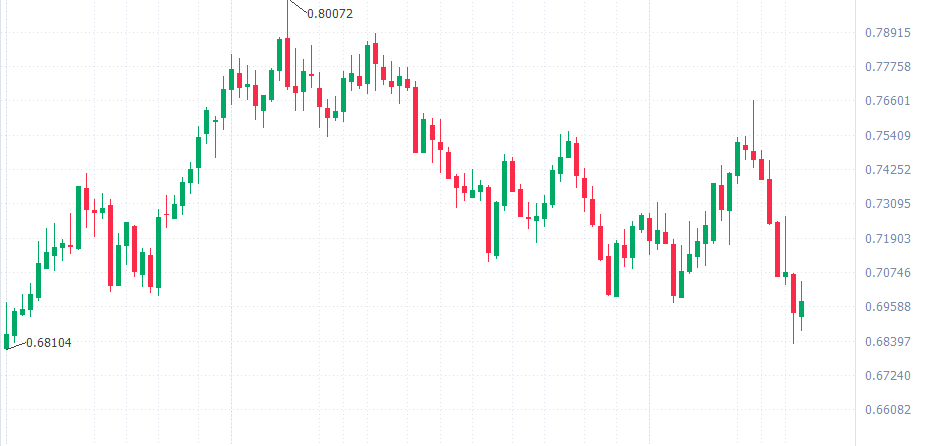 Market Analysis:AUDUSD
The RBA thinks it is time to raise the interest rate as the inflation was high and the unemployment rate decreased

The RBA released hawkish statements

The minutes of the RBA meeting showed more timely evidence that labor costs are rising amid a tight labor market and are likely to recover further in the period ahead. The Australian economy is being supported by household and business balance sheets. While the rise in inflation largely reflected global factors, members noted that strong domestic demand and capacity constraints were working.

Members agreed that the preferred option would be to raise rates by 25 basis points. The committee is considering whether previously set conditions for raising the cash rate are met. Members observed that if Australia's inflationary psychology shifted in a lasting way, it would be harder to bring inflation back to target. Actions of this magnitude will help show that the committee is returning to normal operating procedures.

Members unanimously agreed that further interest rate hikes may be needed to ensure Australia's inflation returns to target over time. There will be an opportunity to reassess the rate setting in a relatively short period of time. Household spending will be closely monitored as interest rates rise. The rate hike conditions set by the committee have been met.

The increase in Australian inflation hit a record high

The RBA raised its benchmark interest rate by 25 basis points to 0.35% in early May. It is the first time the RBA has raised interest rates since 2010. The analysis pointed out that the rate hike came faster and larger than the market expected, aiming to curb rising inflation.

According to the latest data released by the Australian Bureau of Statistics, the Australian Consumer Price Index (CPI) rose by 5.1% year-on-year in the first quarter of this year, the highest since 2001. The Australian Bureau of Statistics said the increase in the CPI was mainly driven by price increases in areas such as motor fuel, housing and education. Food prices also rose significantly, with beef and vegetables rising the most.

Australian dwelling prices increased by 24% in 2021, the largest annual increase since the Residential Price Index began to be published in the third quarter of 2003. Dwelling prices in Hobart, the capital of Tasmania, and in Brisbane, the capital of Queensland, rose by as much as 29.8% and 27.8% respectively. Rents have also risen sharply in many places. Cassandra Goldie, chief executive of the Australian Council of Social Services, said: "about 2.4 million people earn less than $70 a day. Rising rents have hit low- and middle-income groups hard.".

RBA Governor Philip Lowe points out that in the past, prices and wages have usually been in a spiral upward relationship, but this trend has weakened significantly since the outbreak of the epidemic. The data released by the Australian Bureau of Statistics in February this year showed CPI and daily necessities would rise by 3.5% and 7% respectively in 2021, while wages would only rise by an average of 2.3%. Australian economist Chris Murphy said: "overall inflation in Australia will remain high this year and is expected to hit around 6% in the fourth quarter.".

Technically speaking, the decline will narrow, and focus on whether AUDUSD will rebound

On the chart of the week, AUDUSD narrowed its decline. It is expected to continue rebounding. It will continue rebounding with potential resistance at 0.7110 if it is steady above 0.6820.

On the chart of the day, AUDUSD stopped and rebounded around 0.6820 with potential resistance at 0.7110. It will rise further with potential target at 0,7260 if it breaks above 0.7110, and it will continue climbing with potential resistance at 0.7450 if it breaks above 0.7260. On the other hand, it will fall with potential support art 0.6680 if it breaks below 0.6820, and it will continue dipping with potential support at 0.6520 if it breaks below 0.6680.

Key support: 0.6520, 0.6680, 0.6820
Key resistance: 0.7110, 0.7260, 0.7450

In summary, AUDUSD is likely to rebound further with key resistance at 0.7110 and potential support at 0.6820. It will rise further if it breaks above 0.7110, while it will decline with potential support at 0.6680 if it breaks below 0.6820.
19.05.2022 XTrend Speed

98